WHICH DIRECTION SHOULD YOU TURN YOUR BLINDS
Many homeowners often ask us whether you should turn your blinds up or down.  Truth is that both directions work since blinds usually have curved edges to help prevent light from getting through.  However it all comes down to what you are trying to control.
FOR PRIVACY
Adjusting your blinds with the slats facing down provides the maximum privacy.  When in this position it offers the most coverage and protection from the outside looking in.
TO HELP WITH SUMMER HEAT
With summer sunshine comes harsh blinding sunlight and sometimes uncomfortable temperatures.  To help with this keep your blinds fully closed during the summer months when the weather is overly warm.  Obviously this will help keep the sun from beating into your room.  Keeping the harsh sunlight out will help prevent fading on surfaces and your furniture, and definitely keep the room cooler.   If you want to allow some sunlight in turn your blinds so the slats are facing upward.  This will allow some light in and will allow the warm air to escape.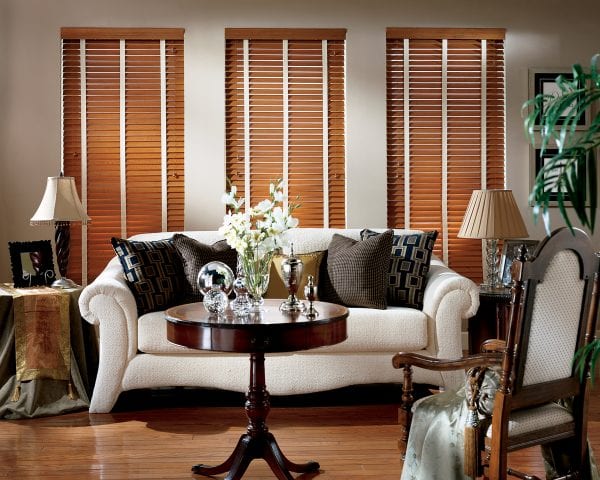 TO HELP WITH WINTER COLD
When it comes to keeping the cool air out the same rules apply as keeping heat out.  Opening your blinds during winter months when it is sunny will allow the sunlight to come in and warm up the space.  However, on overcast days, to add insulation and keep cool air from seeping in, turn your blinds down to add extra insulation.
FOR LIGHT CONTROL
If your goal is to control light coming in then the best option is to turn the slats up.  Opening this direction allows more light to enter the room and helps control the glare.  If light control is your goal, then your best option is to turn your blinds up. Turning blinds up allows more light to enter the room and gives you more control over the light and glare.
FOR THE MOST AESTHETICALLY PLEASING LOOK
If your main goal is to create the best overall appearance and controlling the temperature and light filtering is not your concern If the temperature is not a concern then close your blinds with the slats facing down. This direction will provide clean lines and an appearance that is more more aesthetically-pleasing.
FIND THE BEST BLINDS FOR YOUR SPACE
Whether it's to control temperature or creating a look that is aesthetically pleasing our Design Consultants can help you find the best option for your home.  To set up a FREE in-home consult with one of them – click here and we will get you on our schedule.