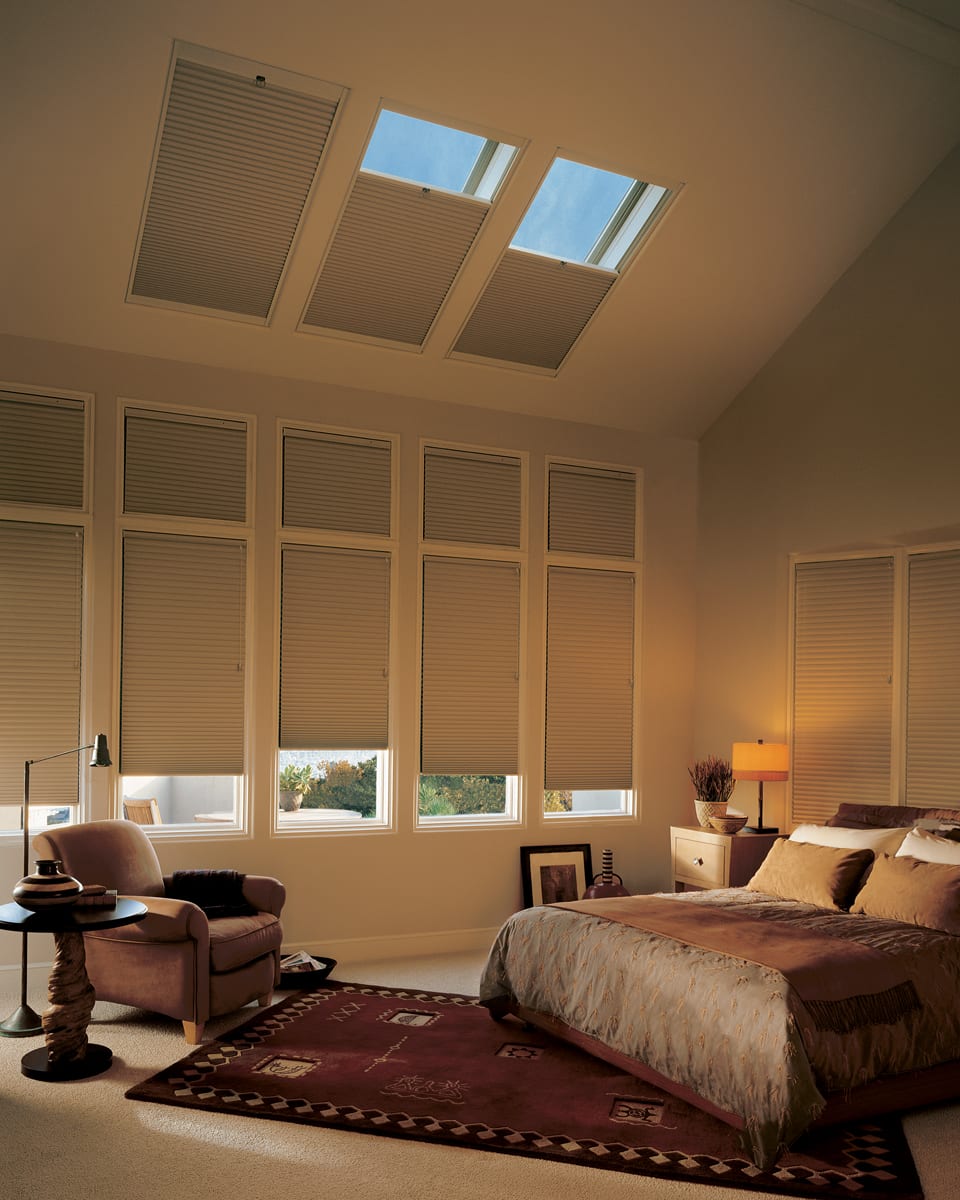 Choices for Hard to Reach Windows
The Dilemma
Every house has that one window that can be nearly impossible to adjust the window covering.  Whether it is because you have vaulted ceilings, dormered roofs or just plain awkward spaces, like maybe above the kitchen sink.  These windows not only make it hard to adjust but they can be nearly impossible to clean, measure and even install those blinds.  For many homeowners it is hard to know what to do.
What can you do?
Look for Inspiration.  Search in magazines or on Pinterest for ideas that others have done.
Talk to neighbors.  Those that have the same or similar floor plan as you might have some great ideas on what they have done.  Another great idea is to walk through model homes and see what the designers have done to those homes.
Think of the direction your window faces.  If you have South or West facing windows that get the intense sun shining through, you may want to consider a permanent shade to help you filter that light in that space.  This will also help keep the temperatures down.
Do you need adjusting control?  One of the biggest things to think about is if you will need to open and close these blinds often.  If this is a possibility you may want to consider getting a motorized shade with a remote control to allow you to open and close the blinds to adjust for the light coming in.
Is the window large or small?  If you have a large wall of custom-sized windows you may want to keep it something streamlined.  Especially if you have a view you don't want to obstruct.
Look for quality.  When it comes to window coverings you definitely get what you pay for.  So on these hard to reach windows it's definitely worth your while to get a quality covering that will stand the test of time.  You don't want to have to hassle to repair these difficult to reach windows if they break.
Talk to an Expert
The best advice we can give when it comes to these hard to reach windows is to talk to an expert.  Someone who does this for a living will have seen it all.  They have installed coverings in more scenarios than you can imagine.  They will have great recommendations for your hard to reach windows, because they have seen it all.  Ultimately the choice is always yours.   However one of our design experts can help you sift through your options and make the decision that will work best for you.
Want an experts opinion on your hard to reach window?  We are here to help!  Schedule your free consultation and we will come to your own home and help you get the ideas you need to get your windows looking and functioning great.
This entry was published on June 8, 2020.