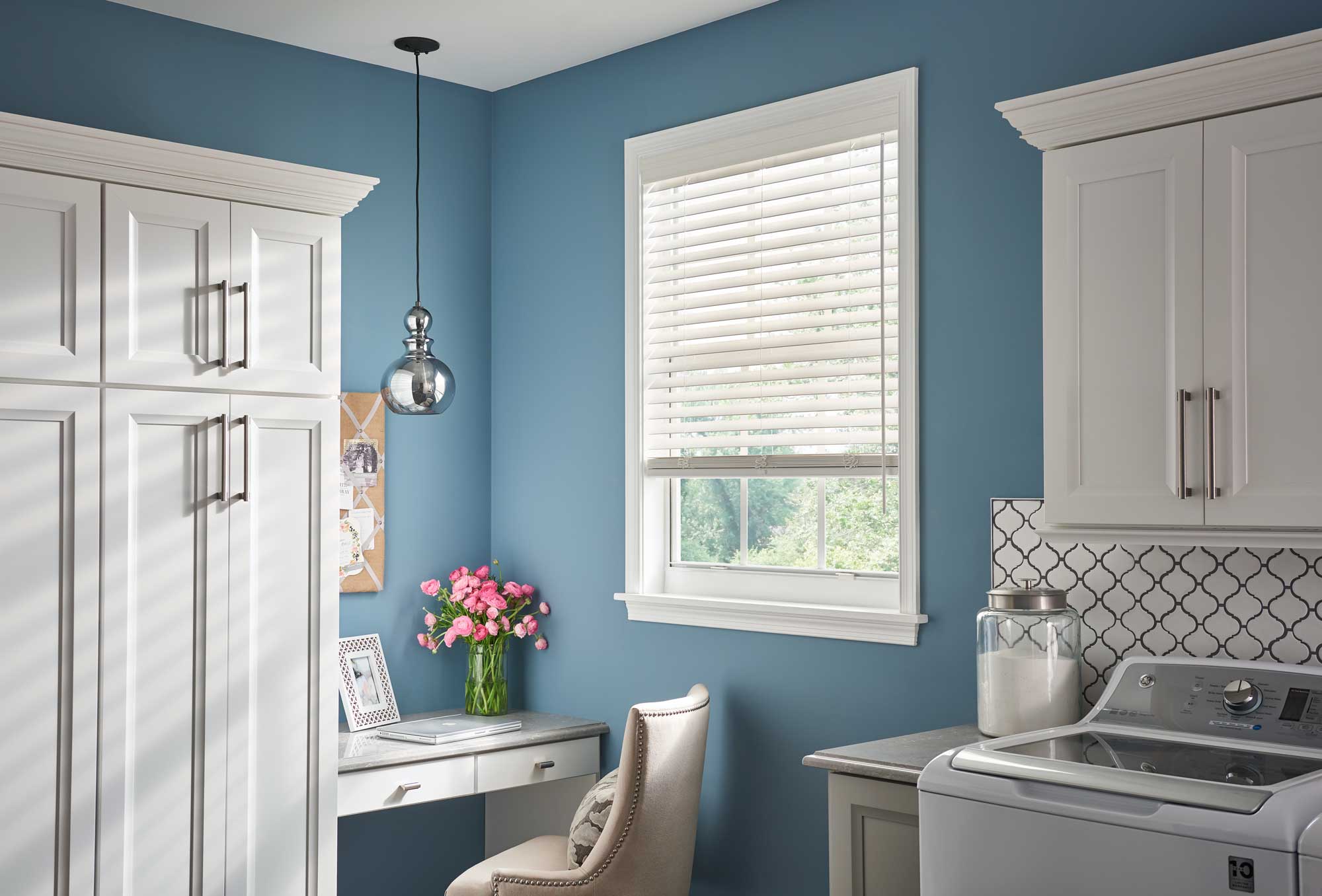 Why You Should Add Cordless Blinds to Your Home
Cordless Blinds?! No way!
When you think about blinds, chances are you think of the standard blinds that require a cord to raise and lower and to adjust the tilt of the slats. While those are surely functional, the dangling cords can pose a risk for children. Not to mention how they sometimes take away from the design of the room.
The solution to this dilemma is Cordless Blinds and Shades. You may be thinking that blinds have to have cords in order to function. You are correct in that they have to be strung on cords, but you don't need to use a cord to raise them or tilt them. Cordless blinds create a clean and modern look in your home.
WHY SHOULD I CHOOSE CORDLESS?
Cordless blinds are becoming very popular because they are so easy to use and safer for children. Not to mention the fact that they have clean modern lines with no visible hanging cords or strings. Cordless blinds are not completely "cordless". They still need cords to hold the blind or shade to together and allow it to function properly. But the cords for this are usually inside the slats or the fabric, so not as tempting for kids and pets as a cord hanging freely on the outside.  To understand the functionality of cordless blinds think of them like an elevator.  You will usually have a lift mechanism inside the headrail or the bottom rail.  A little pulley system hiding inside.  The cords will move around the mechanisms, allowing you to raise or lower the blind or shade.
OPERATING CORDLESS BLINDS AND SHADES
There are actually a few different ways cordless blinds and shades can work. Each can have its own unique functionality, but they all boil down to the fact that you don't have to use cords to do the lifting and tilting on the outside.   When it comes to window coverings cordless blinds are one of the easiest to operate.  To lower you simply pull down on the bottom rail.  Then to raise the blinds you place your hand just under the bottom rail and simply raise it up.  To adjust the slats you can chose between a wand or two short cords that aren't connected to adjust the tilt.  
BENEFITS OF CORDLESS BLINDS
Cordless blinds are becoming more popular as more and more people discover the benefits of using them.  One of the reasons why they are becoming popular is how easy they are to operate.  You don't have to waste your time untying knots or untangling cords, you just have raise and lower them. While these benefits are great these are only two of the advantages. Here are some of the other benefits of using cordless blinds and shades:
Safety
When it comes down to the benefits of cordless blinds there are a few.  the greatest one has to be that they are a lot safer for children.  When you eliminate the hanging cord, you eliminate the chances of kids playing with it and harming themselves.  Many children are injured or possibly die from being strangled by hanging window cords.  Another great benefit is that they look clean and sleek, adding to your home a look of modern clean lines.
Aesthetic appeal:
Without the need for hanging cords you eliminate the safety hazard as well as make it look more aesthetically pleasing.
Cordless window treatments can help make your home look more modern.  They make it look uncluttered and leave a clean appearance.
They come in a wide variety of colors and designs to accent and go with your home furnishings.
OTHER CONSIDERATIONS
Cordless window coverings are a great choice for rooms that you need privacy and light control, such as bathrooms, bedrooms or media rooms.

Something to remember is that you don't want to install cordless blinds or shades on a window where furniture may block the bottom of the shade.  This is because you won't be able to easily reach it.  You could consider motorized shades as these are cordless and don't require you to access the window.
Cordless window coverings are also going to be near impossible to reach if they are installed on high windows that are hard to reach.  If you need a ladder to access the top of the window you shouldn't install cordless – unless again it's a motorized shade.

Cordless window coverings can be difficult to install.  Professional window treatment specialists know how to make sure your shade or blind is properly fit.  Allowing it to not only look stunning but work effectively.
Questions?  Let the experts at Blind Spot help you out.  We've been serving the Greater Salt Lake area for more than 15 years.  Our experts can help you find the window treatment that is right for you home or office.  Contact our office to set up your FREE in-home consultation with one of your experts.
This entry was published on April 10, 2020.