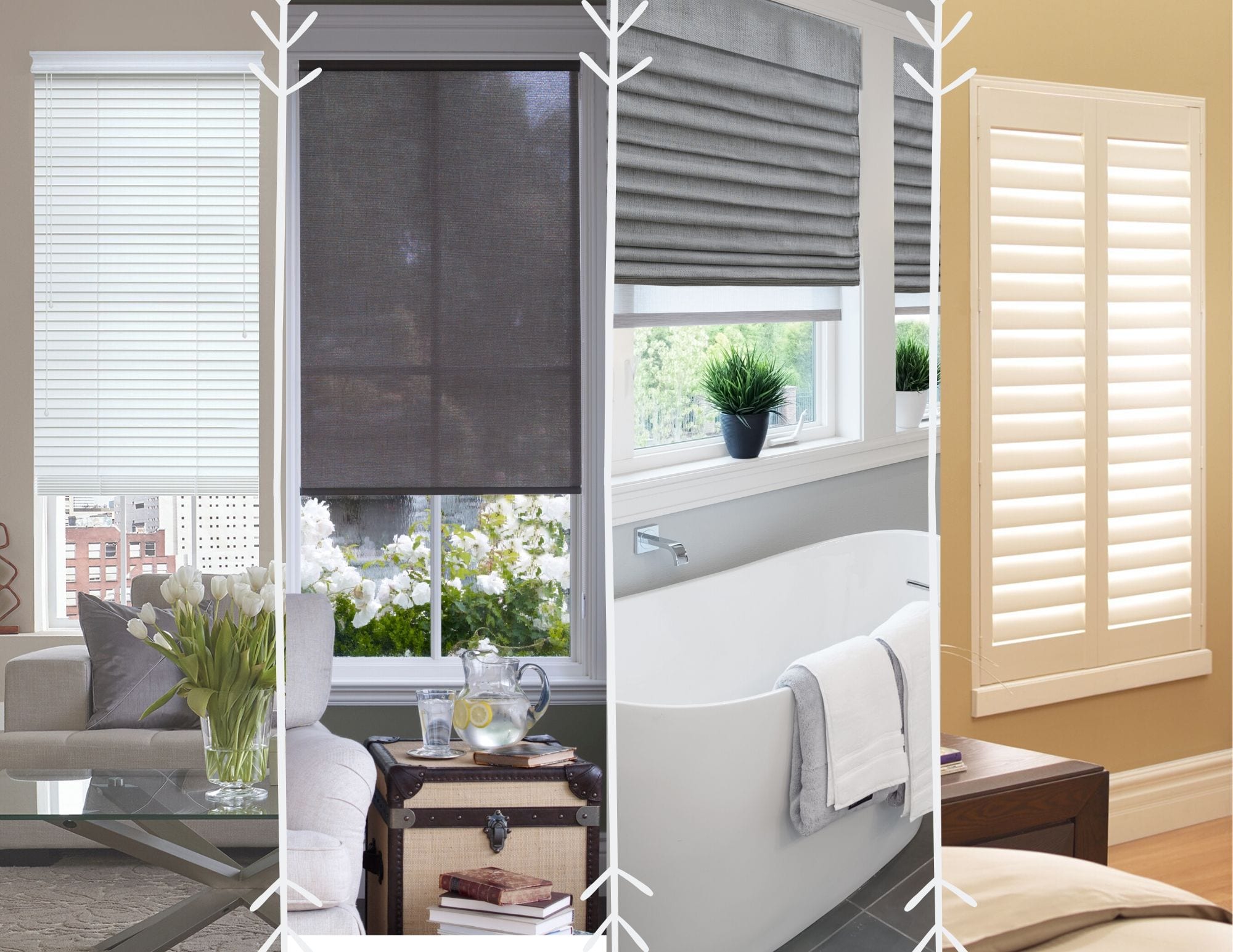 Window Covering Battle: Blinds, Shades, or Shutters?
They say that windows are the eyes to the house.  
So
would that make window coverings the sunglasses?  Or maybe they could be the eyelashes.  Either way window coverings can help protect the 'eyes' of your home.   
Majority of homeowners chose to cover their windows – blocking out harsh light and protecting their privacy.  Each homeowner can go about this a little differently.  One may prefer thick curtains, while another may prefer lightweight roller shades.  Every window covering has its own list of pros and cons. Discovering the best option for your home comes down mostly to your personal preference.  
However
 it helps to know the differences.  
As nice and open as bare windows look – your home may not look finished without a window covering of some sort.  
Plus
 there are benefits beyond just protecting your privacy.  Some are added insulation for your home and can help prolong the life of your furniture.  
BLINDS
One of the most well known window covering around are blinds.  They are extremely common in homes and businesses like throughout the country.  Blinds consist of a headrail, adjustable slate, and a bottom rail.  When slats are closed they can block light and provide ultimate privacy.  The slats can be adjust to let just the right amount of light in and allow for a view of the outdoors.   
Blinds are definitely one of the most inexpensive of window coverings

. 

So

 if you're on a budget when you're looking to cover your windows, blinds could be your best option.  Faux woods as well as aluminum blinds are priced for most budgets.  Allowing you to cover your windows without sacrificing any beauty.

 

Another benefit of blinds is that they are easy to repair.

  Since blinds consist of several individual slats when one gets 

damaged

 they can be easily replaced without replacing the entire blind.  Both faux wood and aluminum blinds are also very easy to clean and maintain. 

 
SHADES
We've already touched on the pros and cons of the different shade options in a previous post. But for convenience we will share those again here.   
While shades aren't nearly as common in homes as blinds, they are quickly gaining popularity.  They provide a nice modern touch to blocking light and protecting privacy.  Shades are rapidly becoming more versatile.  For example, some shades, called the dual shades, provide a fabric look of blinds allowing you to see outside but still having strips of fabric to help with the privacy.   They also add insulation value and protection from the UV rays better than regular blinds.  
Shades can create a 

built in

 focal point or a low-profile look

.  When they're lowered, shades like the roller shades and cellular shades create a low profile look on windows.  The simple and uniform look makes them perfect for homeowners who like the more modern clean line look.  On the other end of the spectrum are the roman shades and woven wood shade.  These become more the centerpiece of a room.  Perfect for those homeowners who want to draw

peoples

 eyes to the window.  

 

Shades are very effective at blocking light and providing privacy.  

Even the most basic of blinds are perfectly capable of reducing the harsh lighting and providing privacy in your home.  Shades take these benefits to the next level.  When you pair a light filtering shade with a blackout liner it can turn ordinary rooms into a refuge of peace and quiet.  They are a great asset to bedrooms, home theaters, media rooms, and home offices.  

 
SHUTTERS
In addition to blinds and different types of shades you have the choice of shutters.  They are quickly becoming a preferred window covering.  Shutters have many of the same benefits of faux wood blinds but they have a rich timeless look to transform any room.   
Woodlore shutters are more durable than regular wood shutters.  Made with a real wood core and coated with a Patented Polypropylene gives it more 

durability

 and easy cleaning.

 
While each window covering is beneficial in its own way, the ultimate decision lies in your hands.  Contact us now to schedule a Free In Home Consultation with one of our Design experts.
This entry was published on April 15, 2020.